Historic Wantage Township
Named for Wantage, England, Wantage Township was formed as a precinct on May 30, 1754, from portions of Newton Township. It was incorporated as a Township on February 21, 1798, as part of the state's initial group of 104 townships. Boundary exchanges were made with Frankford Township in both 1826 and 1834. Portions of the township were taken on October 14, 1891, to form the Borough of Deckertown, which was renamed Sussex Borough in 1902.
---
Historic Designations
Deckertown Papakating Cemetery, Cemetery Road
Lusscroft, County Route 519
Kilpatrick's Reenactment, County Route 560
Goldsmith Maid, 51 Unionville Road
---
Historical Markers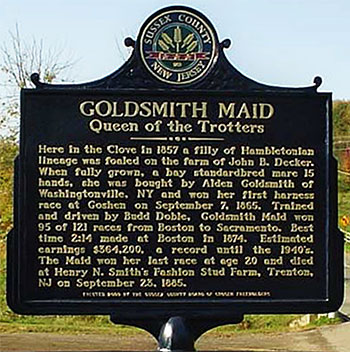 Goldsmith Maid - Queen of the Trotters
Location: Kuperus Farm, 51 Unionville Road (County Route 651)
Date of Marker Placement: 2009
Marker Text: Here in the Clove in 1857 a filly of Hambletonian lineage was foaled on the farm of John B. Decker. When fully grown, a bay standardbred mare 15 hands, she was bought by Alden Goldsmith of Washingtonville, NY and won her first harness race at Goshen on September 7, 1865. Trained and driven by Budd Doble, Goldsmith Maid won 95 of 121 races from Boston to Sacramento. Best time 2:14 made at Boston in 1874. Estimated earnings $364,200, a record until the 1940's. The Maid won her last race at age 20 and died at Henry N. Smith's Fashion Stud Farm, Trenton, NJ on September 23, 1885.
---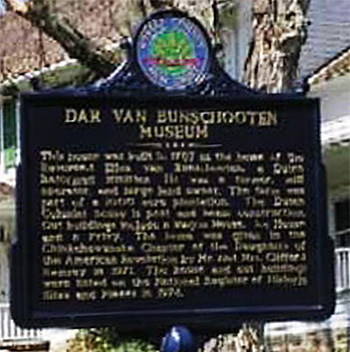 Dar Van Bunschooten Museum
Location: Daughters of the American Revolution (DAR), 1097 Route 23 North
Date of Marker Placement: 2006
Marker Text: This house was built in 1787 as the home of the Reverend Elias Van Bunschooten, a Dutch Reformed Minister. He was a farmer, mill operator, and large land owner. The farm was part of a 1000 acre plantation. The Dutch Colonial house is post and beam construction. Out buildings include a Wagon House, Ice House, and a Privy. The home was given to the Chinkchewunska Chapter of the Daughters of the American Revolution by Mr. & Mrs. Clifford Ramsey in 1971. The house and out buildings were listed on the National Register of Historic Sites and Places in 1974.
---
Lusscroft
Location: Lusscroft Farm, Route 519 (farm entrance is 50 Neilson Rd.)
Date of Marker Placement: 2006
Marker Text: Enos Brink farmed this foothills at the head of the West Branch of the Papakating Creek from 1835 to 1871. James Turner (1859-1939), of Montclair, retired executive of Arbuckle Brothers, a NY coffee and sugar company, built Lusscroft between 1919 and 1930. He donated 1,050 acres in 1931 to create the North Jersey Dairy Branch of the NJ Agriculture Experiment Station, which operated until 1970. Research in artificial insemination and genetic improvements to dairy cattle, grassland farming and ensilage, and improved nutritional values in food and feed yielded lasting benefits of worldwide impact. The 4-H Outdoor Education Center occupied the farm from 1973 to 1996.
---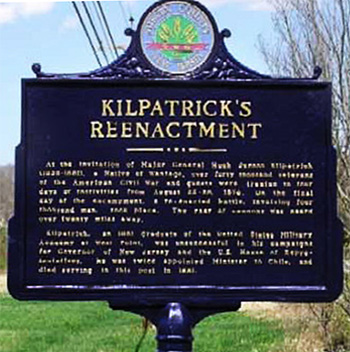 Kilpatrick's Reenactment
Location: Sussex County Route 650, just north of Lake Neepaulin
Date of Marker Placement: 2003
Marker Text: At the invitation of Major Hugh Judson Kilpatrick (1836-1881), a native of Wantage, over forty thousand veterans of the American Civil War and guards were treated to four days of festivities from August 25-28, 1878. On the final day of the encampment, a re-enacted battle involving four thousand men, took place. The roar of cannons was heard over twenty miles away.
Kilpatrick, an 1861 graduate of the United States Military Academy at West Point, was unsuccessful in his campaigns for Governor of New Jersey and the U.S. House of Representatives. He was twice appointed Minister to Chile, and died serving in this post in 1881.
---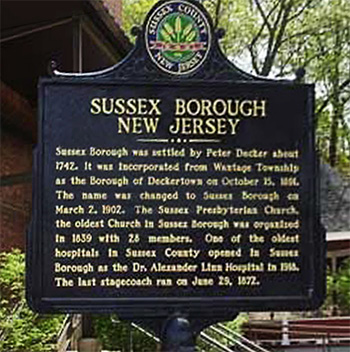 Sussex Borough
Location: Sussex Borough, Main Street at the Deckertown Commons Park
Date of Marker Placement: 2008
Marker Text: Sussex Borough was settled by Peter Decker about 1742. It was incorporated from Wantage Township as the Borough of Deckertown on October 15, 1891. The name was changed to Sussex Borough on March 2, 1902. The Sussex Presbyterian Church, the oldest Church in Sussex Borough was organized in 1839 with 28 members. One of the oldest hospitals in Sussex County opened in Sussex Borough as the Dr. Alexander Linn Hospital in 1918. The last stagecoach ran on June 29, 1872.
---
Historical Society
The Sussex-Wantage Historical Society was founded on March 19, 2015 to promote education, public knowledge, and interest in the history of Sussex Borough and Wantage Township. The group hosts historical walking tours and presentations, participates in Sussex County History Day, and publishes articles about historical places and people. The website is sussex-wantagehistoricalsociety.org. Direct emails to swhistoric@gmail.com.
---
Historical Wantage Map
The Friends of the Sussex-Wantage Library produced a historical map of Wantage. It is a great resource that shows many historic locations in Wantage Township. Maps are $5 and can be purchased at the library and at the used books sales.