Black Bear Information and Resources

See the NJ Department of Fish and Wildlife Bear Information page for more information about Black Bears
---
Black Bear Education Resources
Did you know black bears have been sighted in all 21 of New Jersey's counties? The start of the new school year is a great time to educate students about the Garden State's largest land mammal! NJDEP Fish & Wildlife offers the following educational resources free of charge to provide information about living with black bears and engage students in learning about their natural history, biology, behavior, research, and management. The resources also contain safety tips and practical information for coexisting with bears.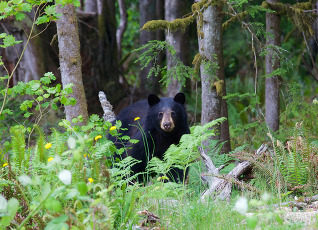 ---
Resources Offered
---
Know the Bear Facts Presentation
Presentation includes an audio/visual component, show-and-tell items, and bear safety publications for distribution.
Students will be exposed to concepts correlated with NJ Student Learning Standards such as K-LS1-1, K-ESS3-1, 1-LS1-2, 1-LS3-1, 2-LS4-1, 3-LS1-1, 3-LS3-1, 6.1.5.GeoHE.1, and 6.1.2.Geo.SV.1.
Duration of program is approximately 60 minutes, but the timeframe can be tailored.
---
Black Bear Exhibit
A table-top display with black bear artifacts, safety publications, and the opportunity for attendees to attempt to fit into a mock bear den!
Best suited for school or community events.
---
Black Bear Education Trunk
The kit contains an activity guide for educators, educational books, a bear hide, skull, casts of bear prints, and lots of other hands-on materials. Trunk may be reserved for multiple days and used in a different classroom each day. A $50 refundable deposit is required, and the trunk must be picked up and returned to Fish & Wildlife's Northern Region office in Hampton (Hunterdon County).
To reserve the trunk, contact Lyla.Kaul@dep.nj.gov.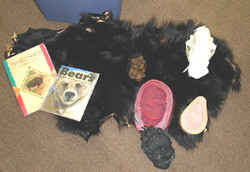 ---
Black Bear Safety Literature
Publications include the Know the Bear Facts for Kids activity guide and bear safety brochures in English and Spanish. View Examples
To obtain copies, contact Lyla.Kaul@dep.nj.gov.
---
Black Bear Safety and Education Video
Available for viewing on the NJDEP YouTube channel and Fish and Wildlife's website as a full-length, 21-minute video or shorter video segments.