Welcome to Wantage
Notices
April is Child Abuse Prevention and Awareness Month
Read Mayor's Proclamation
Township Issues Spring Newsletter
download
WISE Program Offered
The
W
ellness
I
nitiative for
S
enior
E
ducation is offering a FREE six-week educational program to those aged 60 and older. First class is April 30, 9:30 to 11 a.m. at Sussex-Wantage Library. Learn how to stay healthy, meet new people, and have fun! Refreshments and gift cards!
Click here for the flier
for more information or call Tina at 973-383-4787 ext. 239.
Bus Trip
The Wantage Township Recreation Commission is sponsoring a bus trip on Sunday, May 3 to Citi Field, NY to see the Mets baseball game against the Nationals. Tickets are now on sale at the Township Municipal Building for $50 a ticket including transportation.
Habitat for Humanity
Affordable Home Ownership Opportunity located in Green Township. Orientations will be held for those interested in applying. For more information
download the flier
or visit
morrishabitat.org
.
Certificate of Appreciation
John Davey and Roger Gengaro from the American Legion Post 213 presented a certificate of appreciation to the Recreation Commission for their donation. The donation was from the Veteran Memorial Car and Bike Show event held in October at Woodbourne Park and will be used to support the American Legion veterans and children programs. Accepting on behalf of the Recreation Commission from left to right: Christine Keller, Christy Tuper, and Warren Wisse.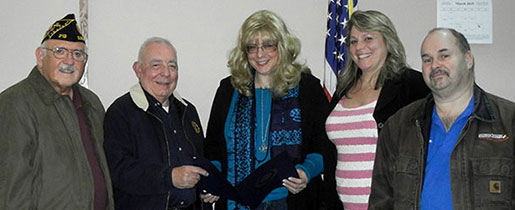 Hoppy Easter
The annual Easter Egg Hunt hosted by Wantage Recreation was held on March 28th.
Click here for more photos.
Lake Neepaulin Reminder
Please accept this reminder that Lake Neepaulin remains closed to public use or access. The governing body is in the process of reviewing rules and regulations for recreational opportunities at Lake Neepaulin. Until that review is completed, for safety reasons, the lake is off limits. We appreciate your understanding and cooperation in this regard.
Winter Parking Regulations
From November 15 through April 15, parking is prohibited on the public streets of Wantage between the hours of 11:00 p.m. and 6:00 a.m. Do not park a vehicle on any Township Street or part thereof when there is snow or ice on the surface of the road.
Getting Ready for Social Security
Are you ready for Social Security?
Click here
for online resources and information.
Snowplows and Mailboxes
Read complete notice
How Does Wantage Township Inform Citizens About Emergencies And Other Important Public Notifications?
See Mayor's Notes
Ongoing Points of Interest
We at Wantage Town Hall often are asked the following questions, being on-going points of information the general public is interested in knowing:
Is my property in a flood zone?
Where is my polling place for voting on election day?
Are there wetlands on my property?
How can I keep track of County road and bridge closures?
Where are Dedicated Open Space properties in my town?
Where are Farmland Preserved Properties located in my town?
This and other information is available through the County of Sussex, by using the following link: http://sussex.maps.arcgis.com/home/index.html We always welcome your phone calls, but in some cases, the local government is not in a position to have the data or information you are seeking. In those situations, we would direct you to search the above resource. Try out the above link, and keep it handy for the future in case you have questions on these topics. We hope this is helpful to you!
Continued best regards,
Wantage Township Mayor & Committee
Notice: Construction Department Services Have Changed
Wantage Township has entered into an agreement with Hardyston Township; Hardyston Township will manage the Construction Department from the Hardyston Municipal Building. There will be limited office hours at the Wantage Municipal Building. See full notice.
---
Latest Posts/Updates
Mayor & Committee: 3/26 agenda | March bill list
Recreation Commission 4/22 agenda
Land Use Board: 4/21 agenda
Board of Health 4/08 agenda
Ordinances: 2015-03