Welcome to Wantage
News & Notices
Roadwork Notices
Route 565
Construction of the Repairs to Bridge X-08 on CR 565 (Martin's Station-Glenwood Road) in Wantage Township is anticipated to start on or about Wednesday September 27, 2017. All work for this project will be completed using a single lane, flagger controlled work zone during work hours as required by the contractor to complete the work. No closure of CR 565 is anticipated for the duration of the project. Please see the
Advanced Construction Notice
for additional information regarding the Repairs to Bridge X-08.
Havens Road C&V Paving will begin work on Phase II of the Havens Road project on Wednesday, September 20th. Work will take approximately three weeks to complete, weather permitting.
For any questions regarding roadwork projects please contact the Township Administrator.

Route 23 Construction Project. See notice.
---
Wantage Business Anniversary Recognized
Space Farms Zoo and Museum was recognized for being a business in Wantage for 90 years at the Thursday, September 28th Township Committee Meeting. A Proclamation was presented by Mayor Jon Morris. Congratulations to Space Farms Zoo & Museum!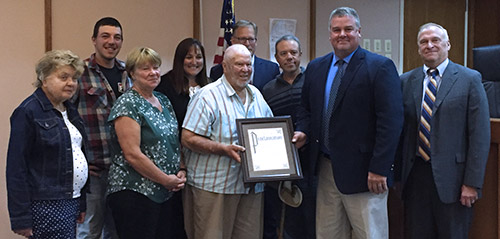 ---
Fishing Contest Held
Wantage Recreation hosted a fishing contest on September 30th.
see photos
Statement from Mayor Jonathan Morris:
On behalf of the Township of Wantage, I want to provide my heartfelt sadness to the owners and employees of the Airport Diner. This type of hatred is not tolerated and I have faith that the NJ State Police will find the individuals responsible for this heinous act. Wantage is a close-knit community and I ask that we come together to not allow these types of views shape our community. If you have any information regarding this incident please contact the NJ State Police Sussex Barracks at 973-383-1515.
---
Wantage First Aid Squad Update
Mayor Jon Morris has issued a letter to residents concerning the status of the Wantage First Aid Squad.
Click here to read PDF.
---
Latest Posts/Updates
Mayor & Committee: 10/12 agenda | October bill list
Recreation Commission: 9/27 agenda
Land Use Board: 09/26 agenda
Board of Health: 09/13 agenda
Ordinances: 2017-12, 2017-13 See Legal Notices