Welcome to Wantage
Notices
Lake Neepaulin Notice
As we prepare for the opening of Lake Neepaulin to the general public on July 1, please remember:
FISHING: Catch and release policy. Anyone age 16 and older must have a valid NJ Fishing License in their possession.

BOATING: Rowboats, canoes, kayaks, inflatable boats, paddle boats, sailboats, and boats with electric motors are allowed.
NO BOAT MAY OPERATE A GAS MOTOR

NO ATV'S OR OFF ROAD VEHICLES

THANK YOU FOR NOT SMOKING

NO OVERNIGHT PARKING

PETS MUST BE LEASHED * CLEAN UP AFTER YOUR PETS

TRASH: This is a carry in, carry out facility. We appreciate your cooperation in keeping our community clean.
Park opens at dawn, closes at dusk. When gates are locked, park is closed.
Thanks! Enjoy!
Attention Farmers
Sussex County Tax Administrator Melissa Rockwell will give a presentation on the new Farmland Assessment Regulations on Wednesday, July 1, from 7 to 8:30 p.m. at Space Farms. Farmland assessment applications are due by August 1st.
Ms. Rockwell's presentation will cover the changes in the new tax regulations effective for 2015. Rules regarding farms under seven acres, new income guidelines, including the supplemental income forms and general farm assessment information for both agriculture and horticulture will be discussed. A question and answer period will follow the presentation. Farmers may prepare written specific questions in advance, and Ms. Rockwell will address as time allows, or reply in the near future. The presentation is given at the request of the Sussex County Board of Agriculture. Space Farms is located at 218 County Route 519 in Wantage. Free parking is across the street.
Gypsy Moth Notice
Is your property experiencing heavy infestation of gypsy moth caterpillars? Do you see heavy infestation in property near you? The NJ State Department of Agriculture provides the following phone number for local residents to report heavy infestations: 609-406-6939 (Dept of Agriculture, Division of Plant Industry.)
Lake Neepaulin Update
With the adoption of Ordinance 2015-06, Lake Neepaulin and Lake Neepaulin Beach shall be open to the public beginning July 1, 2015. The public is welcome, as of July 1, to utilize Lake Neepaulin for fishing, boating, and recreational activities on the beach. However, in accordance with the powers granted in Section 4.B of Ordinance 2015-06, UNTIL FURTHER NOTICE, NO SWIMMING REGULATIONS REMAIN IN EFFECT. ALSO, NO BOAT STORAGE ON SITE IS PERMITTED UNTIL FURTHER NOTICE
Warning - Do Not Do Business with Unlicensed Peddlers
As happens from time to time, We once again received a report of an individual attempting to sell meat from a truck to a Wantage citizen.
Such efforts to sell food items - or other services - door-to-door turn up in Wantage every so often. This type of solicitation is usually presented by the person saying that he has "completed his deliveries for the day" and had some extra inventory, and he wants to know if you want to buy it at a discount.
While the purchase of products through the Internet represents a valid and private business transaction, the act of knocking on some one's door in Wantage Township and offering to sell them something that they did not order represents an act of Peddling.
If any one knocks on your door and offers to sell you something, ask to see their Peddler's Permit. If they do not have a Wantage Township Peddler Permit, these individuals have not paid their fees to Wantage; they may not be registered with the State of New Jersey for Sales Tax compliance; they have not obtained a Food Handling Permit, so there is no protection for you regarding the safety of the food they sell you; and, they are taking commerce away from the legitimate Wantage Township businesses and farmers who pay their taxes in Wantage and rely on us to stay in business.
Please remember that you are not obliged to open your door to an unknown person, and you should act with caution whenever some one offers to sell you food, repave your driveway, clean your gutters, or any other service which you have not requested. If they are a legitimate business person, they will be willing to leave you with their contact information or send it to you in the mail and do business with you another day, if you choose to contact them. Do not accept suggestions of "good deals if you act now." Any such representations should raise a yellow flag of caution. If the offer seems too good to be true, then it probably is.
Suspicious activity involving the offering of such services should be reported to the New Jersey State Police at 973-383-1515.
Welcome Home, Greg!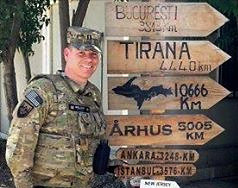 Lieutenant Gregory Williams of the United States Naval Expeditionary Force is coming home after a one year deployment supporting US and NATO operations in Afghanistan. Williams played a key role working with the Combined Security Transition Command – Afghanistan based at Resolute Support HQ in Kabul. In addition to his advisory role, Lieutenant Williams lead or assisted in 65 security missions outside the Green Zone protecting US and coalition forces.
When asked, Lieutenant Williams said "it's been an honor serving my country and helping the Afghan people build a stronger Afghanistan".
This is Lieutenant Williams' second tour supporting the Global War on Terrorism, having deployed in 2005 during Operation Iraqi Freedom. He is grateful for the continued support he receives from family and friends and is looking forward to coming home.
Williams is an active member of the community serving as President of the Wantage Recreation Commission, a founding partner of the annual Veterans Car Show, and member of the American Legion Post 213.
For his service Lieutenant Williams was awarded the Defense Meritorious Service Medal, Afghanistan Campaign Medal and NATO Medal.
Redevelopment Plan
A preliminary investigation regarding the designation of a proposed area in need of redevelopment known as the Route 23 Redevelopment Area.
Download the report
PDF 8.5 MB
Township Issues Spring Newsletter
download
How Does Wantage Township Inform Citizens About Emergencies And Other Important Public Notifications?
See Mayor's Notes
Ongoing Points of Interest
We at Wantage Town Hall often are asked the following questions, being on-going points of information the general public is interested in knowing:
Is my property in a flood zone?
Where is my polling place for voting on election day?
Are there wetlands on my property?
How can I keep track of County road and bridge closures?
Where are Dedicated Open Space properties in my town?
Where are Farmland Preserved Properties located in my town?
This and other information is available through the County of Sussex, by using the following link: http://sussex.maps.arcgis.com/home/index.html We always welcome your phone calls, but in some cases, the local government is not in a position to have the data or information you are seeking. In those situations, we would direct you to search the above resource. Try out the above link, and keep it handy for the future in case you have questions on these topics. We hope this is helpful to you!
Continued best regards,
Wantage Township Mayor & Committee
---
Latest Posts/Updates
Mayor & Committee: 6/11 minutes
Recreation Commission 5/27 minutes
Land Use Board: 6/16 agenda
Board of Health 6/10 agenda
Ordinances: 2015-03